Best Smart Home Hubs 2021
7 min read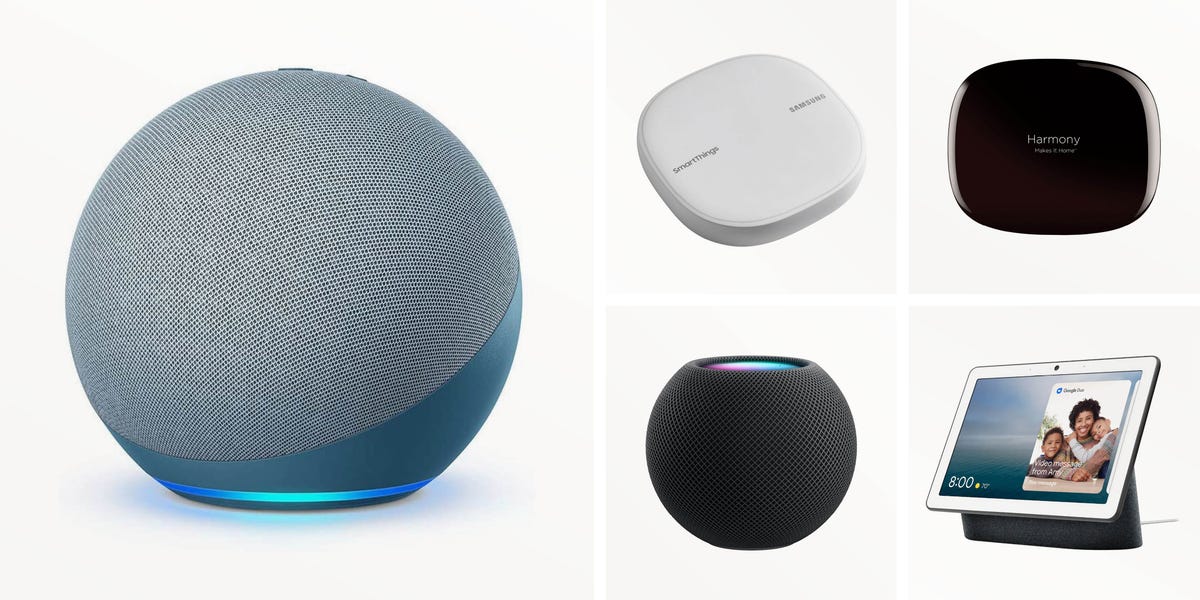 If you're thinking about or beginning to build a smart home ecosystem, you know that the most difficult thing is ensuring that all of your different devices are compatible with each other. While not all hubs will fully integrate with every device, they're overall great solutions that afford you some control over things like smart lights, locks, speakers, cameras, and thermostats, all from one app instead of dozens.
Smart hubs used to be standalone devices, but now they mostly come in multipurpose models, such as speakers, displays, and even mesh Wi-Fi routers. So now you won't necessarily need a dedicated hub to connect your smart speaker to your security system, for instance; the smart speaker itself can serve as the hub. We've included several hybrid options for you to consider below based on your home's needs and your personal preferences.
Check out the quick info below on the top five smart hubs, then scroll deeper for buying advice and full reviews of these models plus other high-ranking options.
How to Decide if You Need a Hub & Which One to Get
Because most smart devices come with an app or voice assistant for control, you may not need a smart hub. However, once you start adding many different devices to your smart home ecosystem, you may want to streamline your home automation by connecting them all to one device from which to control them all through a single app and voice assistant.
While there will likely be cross-compatibility with third-party smart home brands, there's no guarantee that any singular hub will be compatible with every device. So it can help to settle on one smart home system that you want to stick with—such as Google Nest products, Amazon's Alexa, or Apple HomePod—for the most seamless integration. Before you decide on a smart hub, take stock of all of your current smart home devices (or the ones on your wishlist) to determine what other systems they're compatible with.
One of the most important features to consider is if the hub only uses Wi-Fi and Bluetooth connectivity, or if it also supports Zigbee and Z-Wave connection. Most smart devices will connect to your Wi-Fi, but Z-Wave offers wireless mesh connection that won't interfere with your Wi-Fi signal, and it uses less battery. Zigbee functions similarly, but its wireless connection operates at a higher frequency, meaning it might interfere with 2.4-gigahertz Wi-Fi, though it can be faster and support more devices. And be sure to check your Wi-Fi's bandwidth to ensure it can handle more devices on the network. If not, consider investing in a new dual- or tri-band router, or even opt for a mesh Wi-Fi router with smart hub features built-in.
How We Selected and Rated Them
We researched ten expert sources and 90,000 consumer reviews to select the top smart hubs. To determine the Total Expert Score, we took the ratings from trusted publications such as PCMag, CNET, and Tom's Guide and convert them to find the average on a 100-point scale. Our Consumer Score represents the percentage of people who bought and rated the product at least four out of five stars on retail and review sites like Amazon and Best Buy.
---
—SMART SPEAKER—
Amazon Echo (4th Gen)
Total Expert Score: 86/100 | Consumer Score: 91% give it 4 stars or more
A capable smart speaker with all the power and features you need in a hub
Along with the new spherical design, Amazon's fourth-generation Echo speaker has updated features. Of course, the Echo can seamlessly connect with many other smart home devices with Alexa built-in, but now it can control Zigbee devices too. Amazon added better privacy measures with a button that can switch the microphone on and off. It also has manual buttons to turn on Alexa, adjust volume, and has a 3.5mm audio output. PCMag also noted that its audio performance is improved, which helped it earn their Editors' Choice award. Though for the best audio on an Alexa speaker, you may want to opt for the $200 Echo Studio instead.
---
—WI-FI ROUTER—
Samsung SmartThings Wi-Fi
Total Expert Score: 77/100 | Consumer Score: 79% give it 4 stars or more
The mesh Wi-Fi system for controlling all of your connected devices
It makes sense to use mesh Wi-Fi routers to operate your smart home system. You already need strong Wi-Fi to connect devices to the internet, so why not invest in one with built-in speakers and integration with smart home devices to control them with a voice assistant or through one app? Companies like Amazon and Google are also integrating voice assistants with their mesh Wi-Fi routers, and it seems Samsung has also now replaced its third-generation SmartThings hub with the SmartThings Wi-Fi. While there are other powerful mesh Wi-Fi systems out there, the SmartThings is capable of controlling just about any smart device, including Google Assistant, Amazon Alexa, Philips Hue, Arlo, Honeywell, Ecobee, Schlage, and many more thanks to its Z-Wave, Zigbee, and Bluetooth connectivity. Because this Wi-Fi router is rated for up to a relatively small 1,500 square feet, you may need to combine multiple hubs for a larger home—but this is where mesh systems excel at creating seamless networks.
---
—SMART DISPLAY—

Google Nest Hub Max
Total Expert Score: 83/100 | Consumer Score: 93% give it 4 stars or more
One of the best screens to add to a Google Home ecosystem
Because the Nest Hub Max can only connect via Wi-Fi, Bluetooth, and Thread, it's best suited to smart home systems made up of other Google Nest devices. The good news is that Nest makes pretty much any smart home device you could want, including the Nest Thermostat, Nest x Yale lock, and home security cameras. And if you have them, the Nest Hub Max is also compatible with Philips Hue lights, Arlo, Ring, Samsung SmartThings, and Wink smart home devices. It can also replace a tablet or a smart speaker, functioning as both while serving as the main control center for your smart devices. A smart display is especially a great addition to your kitchen, since its built-in stand and voice control will allow you to operate it hands-free to play music and videos, stream TV, ask questions, video call with Google Duo, and watch home security clips from your Nest devices. Of course, the sound and video quality isn't actually going to replace your TV, but its 10-inch screen is certainly a worthy upgrade to trying to balance your smartphone or old tablet with messy hands while cooking dinner or cleaning the house.
---
—HOME ENTERTAINMENT—
Logitech Harmony Hub
Total Expert Score: 79/100 | Consumer Score: 85% give it 4 stars or more
Replaces those physical remotes for smarter home entertainment
If most of your devices fall under the category of home entertainment, you may want to consider Logitech's Harmony Hub, which uses an app that can turn your smartphone into an excellent universal remote. The small black box uses Bluetooth and Wi-Fi to connect to up to a range of eight devices, from your TV and wireless gaming consoles to smart speakers and lighting. You'll need an extender to connect it to Zigbee and Z-Wave devices, but it is compatible with both Alexa and Google Assistant.
---
—BEST VALUE—
Amazon Echo Dot (4th Gen)
Total Expert Score: 87/100 | Consumer Score: 92% give it 4 stars or more
An affordable entry into home automation
The Echo Dot is a more affordable version of the new Echo with just a few downgrades, like no Zigbee device connection and lesser quality audio speakers. However, it's a great choice for smart home beginners on a budget looking to spend well under $100. With built-in Alexa, the Echo Dot can do all of the same hands-free voice control and has the same manual buttons and 3.5mm audio output as the standard Echo. It's even got the same spherical design, though its dimensions are a bit smaller at under four inches.
---
—FOR APPLE USERS—

Apple HomePod Mini
Total Expert Score: 76/100 | Consumer Score: 92% give it 4 stars or more
A decent smart speaker for committed Apple fans
Though it has a similar price and design to Amazon's Echo, Apple's HomePod Mini will suit you better if you prefer Siri over Alexa or if you've already invested in other Apple Home products. While Siri still isn't the best voice assistant, Apple's smart home devices are improving. The Verge described the HomePod Mini's 360-degree sound quality as superior for its size—better than the similarly sized Echo Dot, but not quite as good as larger speakers. However, it also isn't able to connect with a larger speaker system. Unfortunately, there's also no manual switch to turn off the microphone like on the new Echo and Google Nest devices, so you either have to ask Siri to stop listening or turn it off from the app. Given all that—and that its functionality is on par with Amazon and Google's smart speakers—it's really only worth getting if you already own an iPhone or iPad, Apple Music, or already use other Apple HomeKit products.