By Amy Burger Special to the Post-Dispatch

The custom-built contemporary residence of Bob Macher and Nancy Watkins Macher in Fenton is part home, part art gallery — thoughtfully designed to display the large-scale metal sculptures and furnishings Bob has been creating since the early 1980s. A retired chemist, he has always been a creator. He started by making furniture for his three now-grown children when they were young, including beds, desks, bookcases and more.
"Sports don't interest me. I have to be doing something with my hands," he says. "One day, I decided that if I had to make another wooden bookcase, I'd scream. I had to find something else to do. So I picked up a book on how to weld, and here we are."
Bob commissioned the 6,000-square-foot house in 1999, working closely with builder Brad Langeneckert of Langeneckert Homes to design his dream home with soaring wall space and custom nooks for his artwork, as well as a huge lower level workshop/machine shop where he can create freely. He was drawn to the lot — at the end of a cul-de-sac, high on a hill — for its sweeping six-mile view of the Meramec River Valley.
Bob used the 16 months it took to build the house to design sculptures specifically for it.
In addition to the sculptures, which are prominent in every room of the home and surrounding landscape, Bob created much of the furnishings, including numerous tables, artwork stands, cabinets, table lamps, bathroom vanities and more.
The first thing he made when he started out was a set of furniture of carbon steel for the great room of his old house in Webster Groves. "One day, I looked at it and decided that it was pretty fundamental and pretty crude," he says. "I replaced it as I was refining my process. I mainly work with aluminum now because steel is very heavy. Aluminum is a lot easier to move."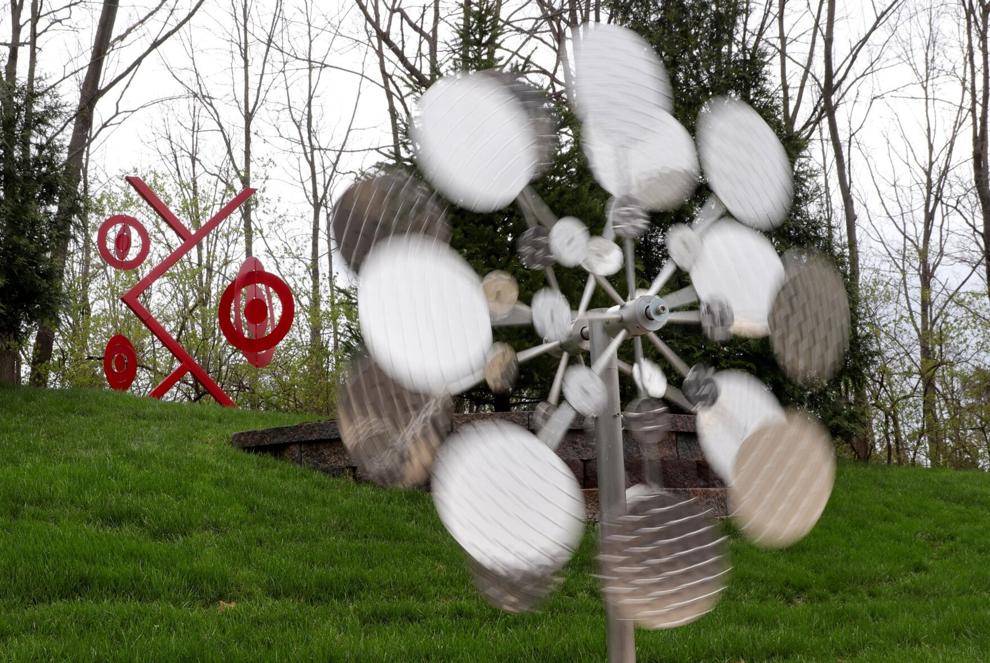 Mostly self-taught, Bob typically works on multiple pieces at a time, and surprisingly does not sell his works, but rather creates them for his home and the homes of his children, stepchildren and friends.
"I prefer to do favors for people, create art for them and give it to them," he says.
Bob's other passion is wife, Nancy. Both widowed, the two met through a mutual friend in 2007 and married in 2008. Moving in to the house filled with Bob's art was an adjustment for Nancy at first, as her previous home in Ballwin had a much more traditional style. "I had nothing contemporary. It took me a little while, but now I really love it," she says.
"Nancy is my inspiration and my biggest fan," says Bob.
The couple enjoys spending time in their all-season room overlooking the Meramec River or in the light-filled living room with its two-story windows and sleek granite fireplace, having coffee and watching the sun come up in the valley.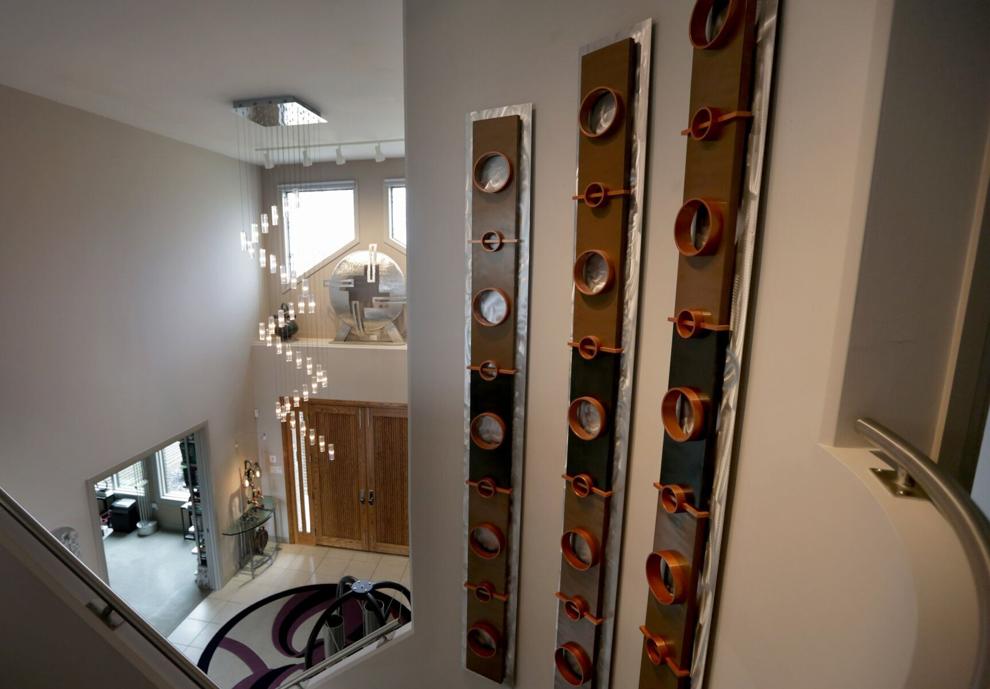 The fully finished lower level includes a bar and seating for entertaining, a home gym and, of course, Bob's enormous home studio. Nancy has her own space to create in a second-floor bedroom, where she crafts jewelry, cards and bookmarks. Bob and Nancy also each have their own home offices.
A kitchen renovation in 2010 included replacing the dark granite countertops with lighter ones and replacing a double-hung window over the sink with a solid plate-glass window for an unobstructed view of the side yard and Bob's large-scale outdoor kinetic sculptures.
His latest creations are steampunk inspired, incorporating pipes, gears, bulbs, gauges and other industrial elements. In the Macher home, there is always room for more.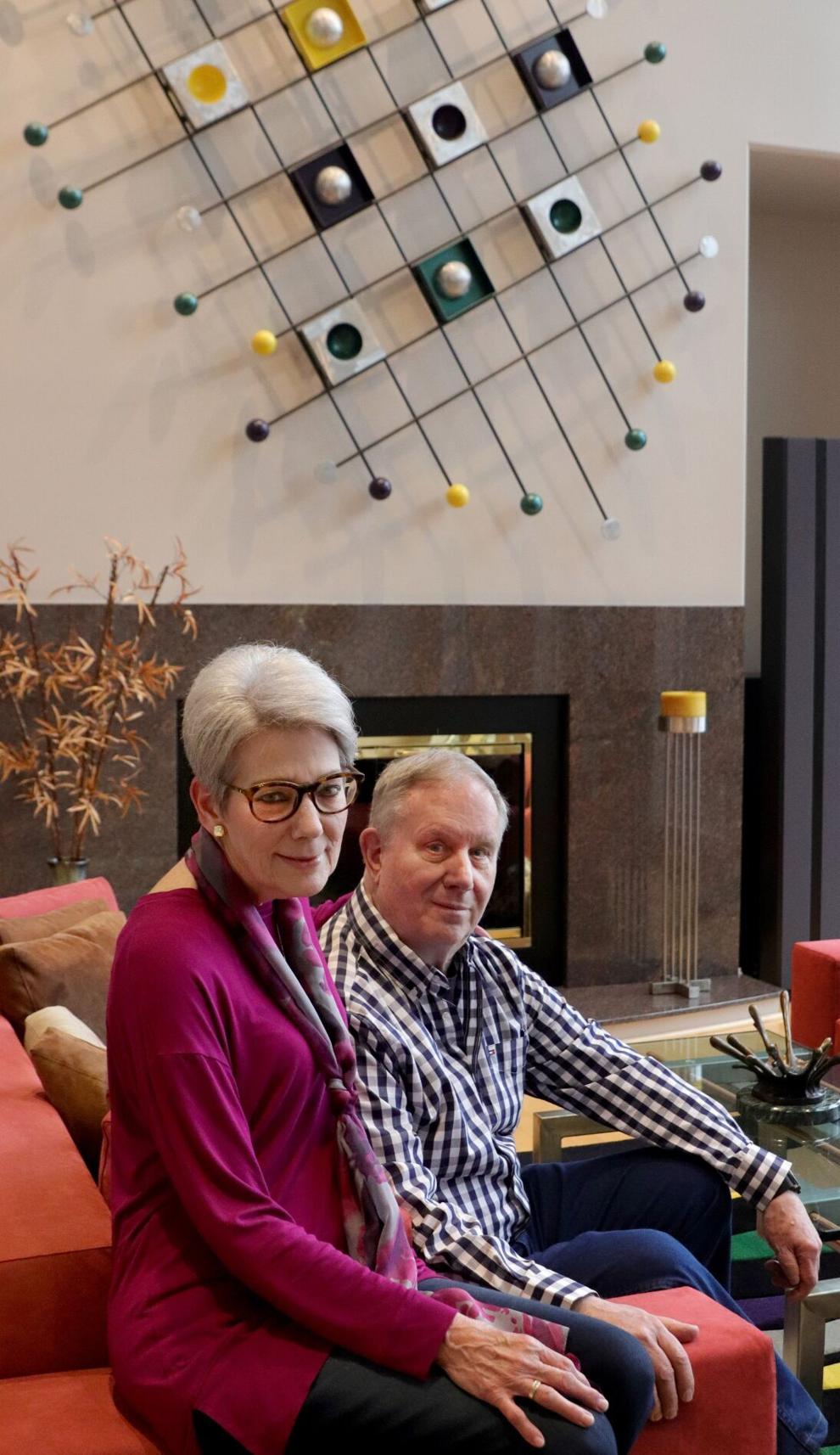 Bob Macher and Nancy Watkins Macher
Ages • He's 79; she's 73.
Occupations • Bob is a retired organic polymer chemist, and Nancy is also retired.
Family • Bob has three grown children and two grown stepsons, Nancy has two grown children. The couple has 12 grandchildren and two great-grandchildren between them.