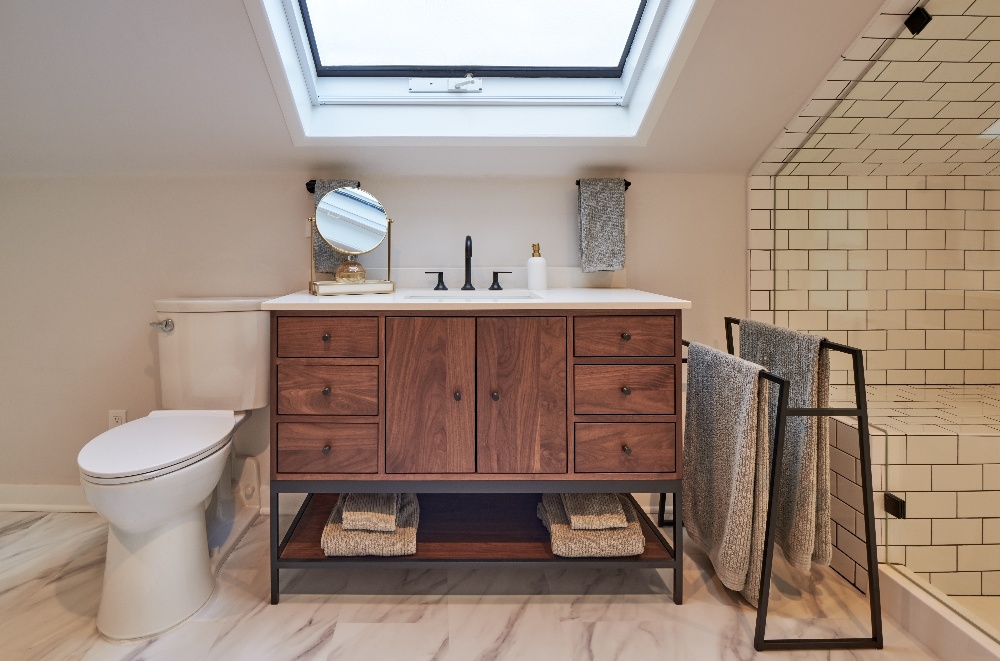 We're back with another helpful "bathroom remodel on a budget" blog! This time around we have our Home Services division up and running so we wanted to highlight a few facelift ideas for your bathroom that can be both budget friendly and in and out of construction before you know it!
What is considered a facelift?
In the remodeling world there are many different terms we use to describe different types of remodeling projects. When you take a space and replace outdated finishes but keep the same layout, we refer to that as a facelift. When you want to remove walls and open up the floor plan or even the existing envelope we call that an "expansive remodel." An expansive project is usually the most invasive route you can take to get the space you need. A facelift is strictly cosmetic and doesn't usually have to do with the room's flow or efficiency.
If you are happy with the lay of the land but not the current style then a facelift may be exactly what you need. Especially if you are working with a tight budget.
Simple bathroom updates
Now, I'm not talking new hanging towels or a new shower curtain. I'm talking new sink, faucet, and hardware. When you take on a small project like a bathroom update, you shouldn't be moving plumbing. You just pull things out and replace them in the same footprint.
Replacing your tub and shower combo
If you have more than one full bathroom, or you are planning on aging in place, then consider removing your tub/shower combo and replacing it with a curbless walk in shower or otherwise known as: a wet room. To protect the rest of the space from water you can add a partial glass wall where a curtain would normally hang.
Upsize your vanity
Depending on how much space you are working with, you could upgrade your pedestal sink to a floating vanity or a single vanity to a double vanity. This will allow more than one person to utilize the space at a time which will be perfect for couples or kiddos. Not to mention the added storage you'll get when you go from having a pedestal sink to having a full vanity.
If you like the size of your vanity then consider a fresh coat of paint and replacing the countertops with something durable like stone. If you do plan on changing the counter tops this gives you the perfect opportunity to also change the style of sink as well.
Shed some light
I bet most people don't realize just how important bathroom lighting can be. Just a single overhead light might not be enough. Have you ever gotten to work in the morning and pass by something reflective only to realize your make-up wasn't fully blended or you missed a patch while shaving? We recommend installing some bathroom lighting that is at the mirror and either at eye level or slightly higher. This way you can get direct light onto your face without the over head light hitting your hair and forehead and casting harsh shadows. 
Tweaking the details
Even changing some small details can make a huge improvement in the overall vision of your bathroom. For example, When deciding to change the knobs and/or pulls, make sure that all the hardware matches perfectly. If you are ordering your knobs and pulls from separate suppliers, even if they are both labeled as brushed nickel, they may still look very different from each other.
If you plan on replacing a shower insert with tile then consider adding a wall niche to hold all of your toiletries. Adding a small niche should not have a major effect on the over all price of your home improvement project. Another suggestion when it comes to the shower is to install your curtain higher than the standard height to make the room seem taller.
The last detail to keep in mind is that when your project is complete, you want the room to stay looking nice. Which means avoiding clutter! To help with this, we recommend having storage inserts installed to any drawers or hooks to the interior of your cabinet doors. This way you can avoid having toiletries and make-up pile up on the counters. All of your belongings will have a home which will also help you save time when cleaning because all you'll have to do is quickly wipe down the counters.
Financial risks to avoid
Our most important piece of expert advice on saving money is to be sure to clearly communicate your budget with your designer. That way if you ever unknowingly choose a finish or fixture that is out of budget they will have an open and honest conversation with you about how that choice may affect the project costs.
When you take on smaller projects like a bathroom facelift there isn't much financial risk since you wont be tearing into walls and moving electric and plumbing around. We recommend really doing your research on the companies you are considering. Pay close attention to the level of honesty, communication, and transparency they bring to the table. Meet with several different companies then sit down and have a final review with your spouse before making a decision on who to partner with. If you find yourself still in the initial discovery phase of project planning, feel free to get in touch to schedule a call or have some of your questions answered.