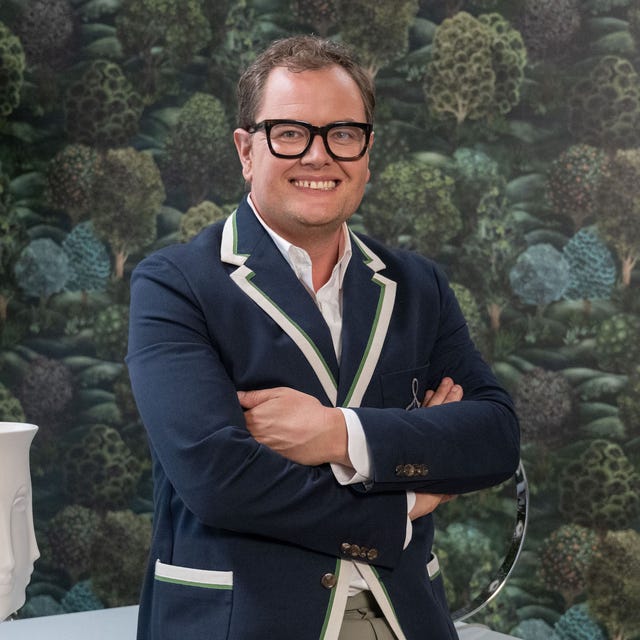 BBC/Darlow Smithson Productions/Banijay/Ellis O'Brien
Comedian and Interior Design Masters presenter Alan Carr says he is 'in complete awe of interior designers who just go for it' but admits he's 'just not that brave' when it comes to his own home.
'Get me on stage at the O2 Arena to perform to thousands, no worries but get me to decide on a roll of wallpaper, I come out in hives,' he quips.
Series two of Interior Design Masters follows 10 talented new designers all looking for their big break in the fast-paced world of commercial interior design, as they compete to win a career-defining contract with one of the UK's top boutique hotels.
Every week sees author and former Elle Decoration editor-in-chief, Michelle Ogundehin, set the designers a different design challenge. 'There was a lot of upscaling going on, we had a lot of contestants who loved a rummage through a skip,' says Alan.
'I would see these knackered old chest of drawers on a Monday that they'd bought for a pittance, and by the end of the week, with new knobs and a lick of paint and a whole load of TLC, they were transformed into something so beautiful that you'd pay a fortune for. They've inspired me that doing up a house doesn't have to cost the earth.
'Plus, I learnt what ombre is, that's when a colour or a pattern fades into another colour along a wall. If done well it can be beautiful plus it makes your rooms look taller – see, you learn something new every day.'
Michelle, who is reprising her role as Head Judge, will enlist the help of design gurus and industry experts as specialist guest judges each week.
So what can we expect from the series? 'Well frankly a lot of honesty,' says Alan. 'I was told by the producers that not only was I the presenter, I was also meant to represent the people at home watching and that I should be brutally honest and say what the viewer was thinking. So, if the hallway is painted baby poo brown I'm going to say it, or the dado rail is wonky I will bring it up.
'Basically, I've been employed because I have no filter. It's not a complete bitch fest, I do dish out a lot of praise because they were all so talented. The prize is fantastic for someone who wants to pursue a career in interior design so there feels like a lot at stake. If you loved the first series, you will not be disappointed.'
When it comes to the home he shares with his husband Paul Drayton, Alan says he's happy to leave Paul in charge of the decor. 'Thank god my partner Paul is creative when it comes to interiors. I will consider a potential lampshade for weeks on end whereas he will have no qualms of barging through the door with a bit of taxidermy tucked under his arm or something "rescued" from a flea market and stick it up on the wall,' says Alan.
'I'm getting better at pushing my creative boundaries and recently I've become a sucker for a tile. I decorated the downstairs toilet with a gorgeous Bert and May Tile and a flamboyant wallpaper, and do you know what, it worked! So now I'm feeling a bit more confident I'm doing our main bathroom now – wish me luck!'
And when it comes to the boldest update in the home, Alan is quite proud of his William Morris wallpaper and upholstered sofa.
'Well I wouldn't say bold as such but I got an absolutely gorgeous William Morris print wallpaper and paired it with a William Morris print sofa and I was so worried that it would clash so badly, too much of a good thing and all that,' he explains. 'And as you know William Morris wallpaper is a feast for the eyes and it can be quite intense what with all the swirling colours, but it worked and the room is so cosy now, especially when you pop on some strategically placed lights, and surround yourselves with cushions.'
Interior Design Masters with Alan Carr airs on Tuesday 2nd February at 8pm on BBC Two
Like this article? Sign up to our newsletter to get more articles like this delivered straight to your inbox.
In need of some positivity or not able to make it to the shops? Subscribe to House Beautiful magazine today and get each issue delivered directly to your door.
---
This content is created and maintained by a third party, and imported onto this page to help users provide their email addresses. You may be able to find more information about this and similar content at piano.io