Celebrating Diversity: Tony's Home Furnishings | Yakima News
3 min read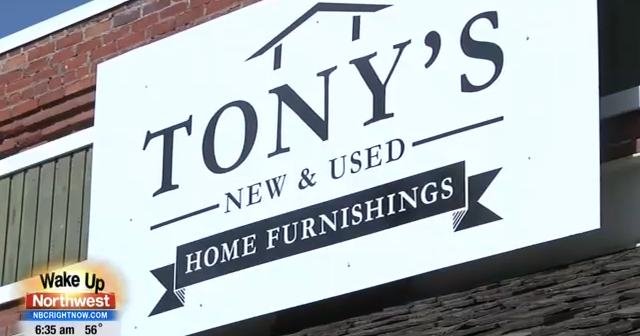 TOPPENISH, WA – NBC Right Now and Solarity Credit Union are working together to celebrate diversity in our community. Each month, a minority-owned business will be highlighted. This month we're highlighting Tony's Home Furnishings.
Tony and his wife decided to open their furniture store to spend more time with their family. 
"We decided in 2016 to open it because of my daughter Brooke," said Tony Perez the owner of Tony's Home Furnishings. "My family and I wanted to spend more time together and so we could see that the only way to do that was to start our own business."
They were very excited to be recognized and awarded by Solarity Credit Union.
"We appreciate that you've opened this business and we hope that you inspire others to do so as well," said a representative from Solarity Credit Union. "We also hope that this recognition provides some meaningful impact, some positive impact to your business. Congratulations to you!"
Perez is a husband and father of two children and one on the way, he said he's never regretted opening his own business.
"It was the best thing we have ever done," said Perez. "I get to spend time with my wife and kids every day so it's one of the best things in my life."
Going into retail wasn't something new to him.
"Growing up I grew up in furniture, my dad has a second-hand shop and my aunt Hope actually ran the Amish Connection which was in the same building I am in currently and she did that for 25 years," said Perez. "It's sort of in our family to do a furniture store."
Tony's Home Furnishings offers more than just furniture.
"We have a little bit of everything, accessories, home décor, blankets," said Perez. "We have a little bit of anything and everything you could imagine."
During the peak of the pandemic, Perez said his business started to get recognized more because they were one of the few places open. 
"We started out as new furniture but I was sort of all over the place since then I partnered with a few select partners and we've seen it just grow massively since then," said Perez. "providing, being a family-owned business we have some of the most competitive pricing in the whole valley. We've just seen it grow incredibly well since the pandemic hit and since we partnered with those partners."
He really takes pride in the things he offers and tries to make sure everyone leaves happy.
"I will try to find a way to make every deal work and so anybody who wants to come on by, I will always try to provide them the best price possible," said Perez
Tony's Home Furnishings is open 11 a.m. – 5:30 p.m. Monday through Saturday.
You can visit them at: 
105 S Toppenish Ave, Toppenish, WA 98948
If you'd like to nominate a local minority-owned business that deserves to be highlighted, you can head to Celebrating Diversity | nbcrightnow.com.
One business will be chosen every month to receive a free month of television and digital advertising!